Filter by Category
One Day Workshops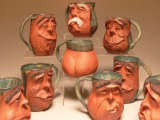 Face Mugs Workshop - April 2021
with Debbie Englund

Apr 24, 2021 at 10 am
Are you a morning person?
Want to create a personalized coffee mug (or two) to suit your moods?
Or to set your mood for the day?
Learn techniques for applying features and designs to your mug.

Each participant is supplied with 2 blank mugs and the necessary tools and materials to produce 2 functional mugs.
This morning workshop will be an absolute hoot for both kids and adults! So invite a friend or two. And sign up quickly as this one will sell out!
Full Course
Glaze Fundamentals - May 2021
with Debbie Englund

May 29, 2021 at 10 am
This workshop is for students who have experience in the clay studio and can provide their own bisque ware for practicing techniques during the workshop.
We will explore different methods of ceramic glaze application and other surface treatments. Printed materials will be provided.
Discussion will include, but not be limited to, glaze chemistry, dry materials and glaze formulation. Students will come away from the workshop with a better understanding ceramic glazes and how to use them to create beautiful surfaces.